How does the Invisalign orthodontic system works?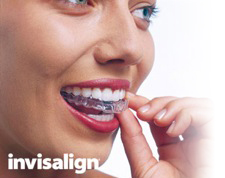 The Invisalign aligners are a series of clear plastic removable devices that move the teeth gradually into the desired position. The diagnosis and prescription is done by Dr. Stephanie Guisasola to develop a treatment plan that indicates the desired toothmovement. From there measures of teeth that are sent to Align Technology and on which alignersare made ​​with advanced 3D computer graphics technologies are taken.
The number of aligners will vary in relation to the complexity of the case and treatment planning.
The aligners be kept between 20 and 22 hours a day, removing them only to eat, brush and floss.Usually they will change in every 2 weeks. Follow-up appointments will have a frequency of about 6 weeks.

VENTAJAS DE INVISALIGN:

They are pratically invisible                               

Allow a normal toothbrushing.

Allow a normal diet without restrictions.    

They are comfortable to wear.

It is very easy to clean.

Can treat all cases with Invisalign system?
Not all cases can be treated by this system. Orthodontist will assess it.
As of today are being incorporated into many new Invisalign system that can treat complex cases that previously could not be corrected with these aligners.
Some cases that can be treated:
  See if your case is …