Certainly the importance of aesthetics is given in our society. A good image helps to find better with others and with ourselves. Thus Clinic Guisasola have the means to make it look nice and healthy smile on her face.
Today white teeth are fashionable How you can get? Making a tooth whitening or porcelain veneersgetting a:
Veneers are thin layers of porcelain that cover all or part of the visible surfaces of the teeth, upper or lower, previously prepared.
A radiant smile, a regular line of white teeth and natural, are an important element of the characteristics of the smile that you can provide porcelain veneers.
Case 1


Case 2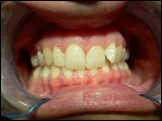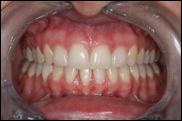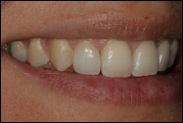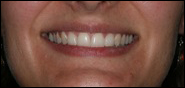 What is involved?
At the first appointment diagnostic wax, which is a simulation because the treatment does not allow testing phase porcelain veneers are asked.
At the second appointment the teeth are prepared and provisional standing.
In the third round porcelain veneers are cemented and maintenance instructions are given.
The main advantages of porcelain veneers are:
An extremely aesthetic, durable and conservative alternative.
Less invasive than conventional full crowns.
Wear resistant.
In what cases porcelain veneers are recommended?
Tooth discoloration (staining by antibiotics: tetracycline, hypo calcification-white decor).
Alteration of the shape and size of the teeth (narrow teeth, incisors short, abraded).
Poorly positioned teeth or crowding above, if the patient or orthodontist, for different reasons, refuse to orthodontic treatment.

Fractures incisors.
Decayed or old composite restorations teeth.
Or mild or moderate diastema between incisors spaces.

Instructions to the patient after putting on porcelain veneers:

1.In the next 72 hours.

· Do not smoke or take dyes that stain the concrete.

· Avoid temperature changes.

· Do not drink alcohol, nor do they interfere in the rinse setting.

· Do not eat hard things, or straining with-teeth to prevent descementen.

2.Se recommends using night splint (protector).

Three. Attend regular checks.

April. Use medium or soft brushes.

5.Use of dental floss.

6.Dentifric non abrasive.

7.Avoid highly acidic mouthwashes. Best the sodium chloride. Do not use
chlorhexidine.

8.Avoid bad habits like nail biting.